Shredded Chicken Enchiladas

Ingredients


2 cloves garlic, minced
1 can (1 1/2 cups) enchilada sauce (I use Mild)
kosher salt
ground black pepper
2 boneless, skinless chicken breasts
1 cup shredded cheddar cheese, divided
1 cup shredded Monterrey jack cheese, divided
1/2 cup plus 1 tbsp. fresh cilantro, roughly chopped, divided
12 6-inch corn tortillas
cooking spray

Directions

Preheat oven to 425 degrees.

Add the minced garlic to the enchilada sauce in a deep skillet and heat to boiling. Generously sprinkle kosher salt and ground black pepper over the chicken breasts and then nestle the chicken breasts into the sauce. Reduce the heat to low, cover and cook until the chicken is cooked through, about 15-20 minutes. Remove the chicken from the sauce, set aside and let both the chicken and the sauce cool.

Using two forks, shred the chicken breasts by holding one fork steady and slowly scraping the other fork, prongs faced backwards, away from the other fork (see picture above). Transfer the shredded chicken to a large bowl. Add half the enchilada sauce, 1/2 cup each of the Monterrey jack and cheddar cheeses and the 1/2 cup of cilantro to the shredded chicken. Stir to combine.

Wrap the corn tortillas in a damp cloth or paper towel and microwave on high for 20-30 seconds until pliable and warm. Using cooking spray (if desired), oil a 9-inch x 13-inch baking dish. Spoon about 1/3 cup of the chicken mixture along the center of the tortilla. Gently, but firmly, roll the tortilla around the filling and place into the baking dish, seam-side down. Repeat with remaining tortillas.

Lightly spray the tortillas with cooking spray (or brush lightly with olive oil). This will help the tortillas turn golden in the oven and will also help keep them from cracking. Place baking dish in the oven, uncovered, for 8-10 minutes or until the tortillas begin to turn golden.

Reduce the oven temperature to 400 degrees. Remove the baking dish from the oven. Pour the remaining sauce over the enchiladas and sprinkle remaining cheese over the sauce. Sprinkle with 1 tbsp. fresh cilantro. Lightly cover baking dish with aluminum foil and place into the oven for 20 minutes. Carefully remove foil after 20 minutes and bake, uncovered, for an additional 5-10 minutes or until the cheese is golden.

Remove form the oven and let stand 5-10 minutes prior to serving.

Feel free to add a dollop (or two!) of sour cream and some more chopped cilantro if you'd like.
Mushroom soup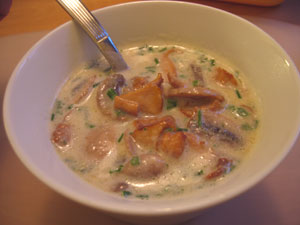 For 4 servings
250 g fresh mushrooms
butter to fry with
3 large potatoes
1 large onion
3 dl water
1 pinch black pepper
2 mushroom bouillon cubes
5 dl milk
2 ½ dl cream
about 1 teaspoon salt
1 teaspoon lemon juice
½ deciliter chopped chives
Preparations:
Cut the mushrooms into pieces, fry in butter and set aside. Peel and chop the potatoes into small pieces, peel and chop the onion. Fry potatoes and onion in butter in a saucepan. Add water, pepper and stock cubes and cook for about 15 minutes. Place onion and potatoes to a smooth paste, I did it in the food processor and pour back the potatoes in saucepan and add mushrooms, milk and cream. Let the soup boil for a few minutes, then add salt to taste, lemon and chives.
You can always change the ingredients for example, you can change the usual milk to low fat milk.
Day 1
Today is the first day of my 30 days weight loss challange. I weighed myself for the first time in a month and a month ago, I weighed 94 kg and now I weigh 88 kg. Today I ate for breakfast a bowl of cereal and lactose free sourmilk with fresh raspberries on, I drank a cup of green tea.
For lunch I ate mushroom soup (Will post the recipe for the soup).
I exercised with a workout video on youtube, here is the link:
http://www.youtube.com/watch?v=QtYgmDEddug&feature=related
For dinner I'll make a chicken salad.
And finally, I will before I go to bed drink a cup of green tea.
Body measurements Day 1: Chest: 105cm, Waist: 95cm, Hips: 120cm, Thighs: Right & Left: 62cm and Upper arm: Right: 32cm & Left: 33cm.
30 days weight loss challenge!!
Starting next week I'm gonna begin my 30 days weight loss challenge!
Weight yourself every morning.
Eat a healthy and nutritious breakfast that will keep you going all day long.
Exercise for at least a half an hour up to 2 hours. Use workout videos if you don't have the money to pay to go to the gym or go out and run or take a long walk.
(Snack.)
Eat a healthy lunch and make it that it's just one portion just for yourself.
(Snack.)
Dinner is very important but you can't eat too much there either, one portion.
Don't push yourself to much, eat healthy and exercise and it will take a while until you feel the difference but after you've done your best and you know it, you will feel so much better! Don't give up, keep going, think of how you will look after all the hard work you've done. You can always do a Tumblr or a blog where you can blog everything you do and get advice from people who has been traning for a while or get to know new people who has the same blogs.
You can take a snack between the meals if you feel that you're still hungry, but you can only eat healthy snacks, like fruits or fiber bread with something little on. 
Always drink a lot of water through the whole day!
Green tea helps you burn fat so you can take on cup of green tea in the morning before breakfast and one cup of green tea before you go to sleep.
When I say one portion, I mean this picture you see down below, this is how a plate model looks like.  
Repeat this everyday for 30 days!!
I'm gonna put up the food I eat and what I do.

Good luck everyone!! ;D
If you have any questions just ask me and if you have any advice or anything you want to say feel free to do that also!! 
No cheating, it's not allowed!! 
Hardcore Arms
Weekend Workout

Click on link below to download the full printable workout.